National Family Caregiver Month

Statewide Toolkit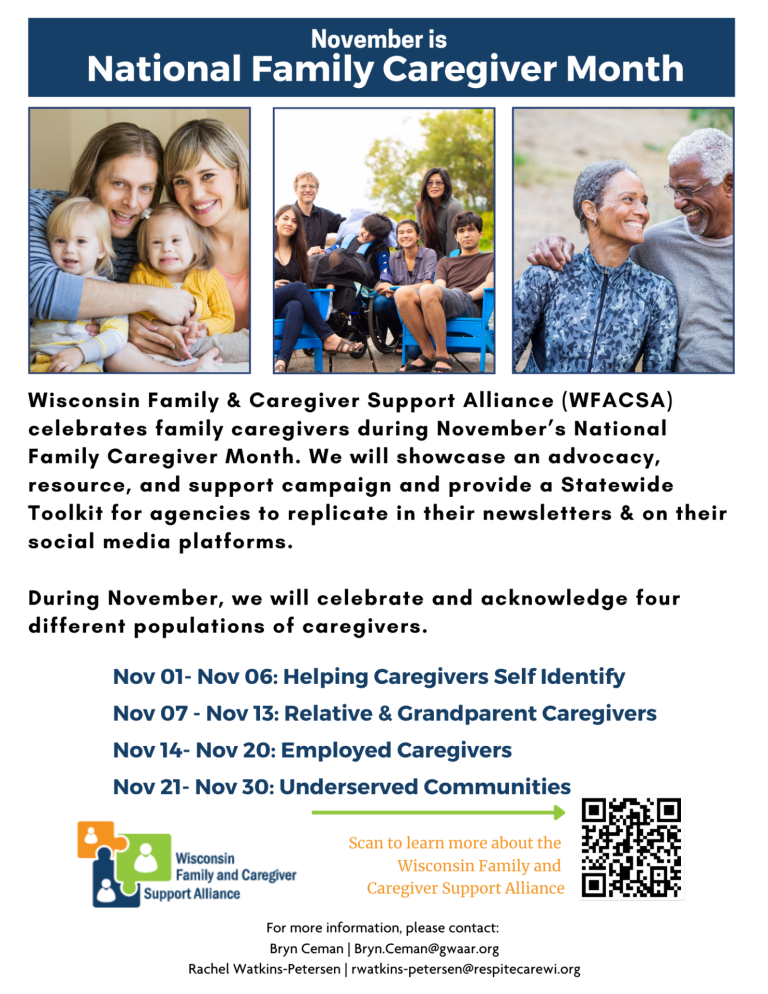 Dear Community Partner,
Celebrated throughout November, National Family Caregiver Month is a chance to recognize the estimated 580,000 Wisconsin family caregivers and appreciate the 490 million hours of unpaid care provided annually.
Wisconsin Family & Caregiver Support Alliance (WFACSA) is a team of professionals and family caregivers who work to address family caregivers' needs and celebrate caregivers during November's National Family Caregiver Month.
WFACSA Steering Committee Organizations include:
Our Alliance has crafted this Statewide Toolkit highlighting education, resources, and supports to improve advocacy, increase access, and sustain Wisconsin families into the future. The Toolkit follows the 2022 joint National Strategy to Support Family Caregivers. The National Strategy was created to support family caregivers of all ages, from youth to grandparents, regardless of where they live or what caregiving looks like for them and their loved ones.
Toolkit focus areas:
Nov 01 to Nov 06 – Helping Caregivers Self Identify. Materials and content to help family caregivers answer the question, "Am I a caregiver?" Week one's materials include a caregiver survey & press release. You are welcome to use the press release partially or in its entirety for your local newspaper(s).
Nov 07 to Nov 13 – Relative & Grandparent Caregivers. Materials and content to recognize our state's relative caregivers and efforts to understand their unique needs. This week's content includes Siblings' Choice Awards sponsored by WisconsinSibs, Inc.
Nov 14 to Nov 20 – Employed Family Caregivers. Materials and content to support, promote, and increase the sustainability of working caregivers. The content includes Exemplary Employer Award, offers resources for employers on how to identify best & help working family caregivers, and the positive financial impact of attracting and retaining family caregivers as employees.
Nov 21 to Nov 30 – Underserved Communities. Materials and content to support Native American, Asian American, Black, Children / Parents / Siblings, Hispanic & Latino, Kin & Grandparent, LGBTQIA+, and rural family caregivers.
You are welcome to replicate the content in your newsletters & on your social media platforms and websites. You may also share content directly from Wisconsin's Family Caregiver Support Programs. You are encouraged to share this Statewide Toolkit with anyone you feel would benefit.
Respectfully,
WFACSA Steering Committee
Click the buttons below to view each week's toolkit