Bringing Respite to Your Community Workshop
This FREE workshop will provide you with the information and building blocks needed to start a respite program in your community. You will have the opportunity to provide and receive feedback from others starting programs in their communities, allowing you to build a support system throughout the state of Wisconsin. This is a six-week course. The first, third, and fifth weeks will consist of online modules for you to complete on your own time. The second, fourth, and sixth weeks will be a virtual, face-to-face meeting at a scheduled time. Space is limited. A waitlist will be started once a workshop is full. 
Four sessions are being offered in 2022 for Wisconsin Residents. Click for a pdf overview of the workshop. 
2022 Workshop Dates
Winter 2022: January 17 – February 27, 2022 (registration opens December 6, 2021)
Spring 2022: April 11 – May 22, 2022 (registration opens February 28, 2022)
Summer 2022: July 11 – August 21, 2022 (registration opens May 31, 2022)
Fall 2022: October 3 – November 13, 2022 (registration opens August 22, 2022)
Participants are asked to commit to attending all three virtual face-to-face sessions.  Virtual dates for each workshop will be released when registration opens. 
If you have any questions or would like to be put on a pre-registration list, please email [email protected] to have first access when registration opens.
There is a need for more respite programs in Wisconsin. Throughout the state, there is funding available to pay for respite care. But in most communities, there are very few, if any, providers. Respite care programs can look like a variety of models.  Some use volunteers, and there is no fee to the participants. Other respite care services are paid through waiver funds that are provided by the state. 
Respite Care Association of Wisconsin is offering a free six-week virtual workshop so that you can explore the idea of bringing respite to your community. You will walk through the steps with other like-minded individuals that want to build a respite program.
You design a program that meets the needs of your community and your interests!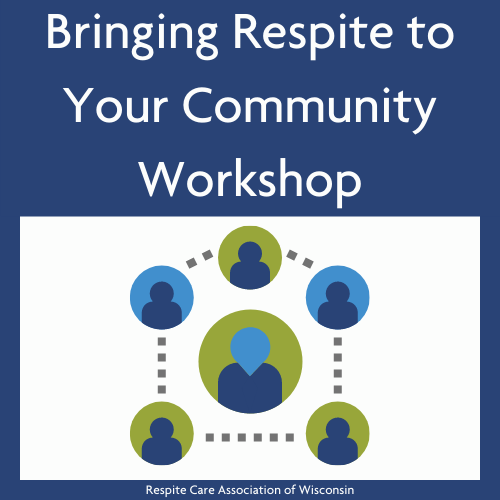 Questions or more information, please contact Val Madsen, Training and Development Specialist at [email protected] or 608-285-2440.
Tentative Syllabus
Week 1: Needs Assessment, Program Design, and Business Structure (Online Course Module)
Week 2: Program Design and Licensing, Funding & Budgeting Intro (Virtual Face-to-Face)
Week 3: Policies and Procedures, Documentation, Interviews with Respite Programs (Online Course Modules)
Week 4: Professional Guest Speakers – topics vary each workshop, could include insurance, legal information, accounting, and others (Virtual Face-to-Face)
Week 5: Staffing & Volunteers, Recruitment & Hiring, Training, and Program Growth (Online Course Module)
Week 6: Branding & Marketing, Project Presentations & Course Wrap-up (Virtual Face-to-Face)
Registration is limited to 10 people. This will allow for interactions and quality feedback about your specific program. The hope is that your workshop group will become a support for you throughout the process of building your respite program.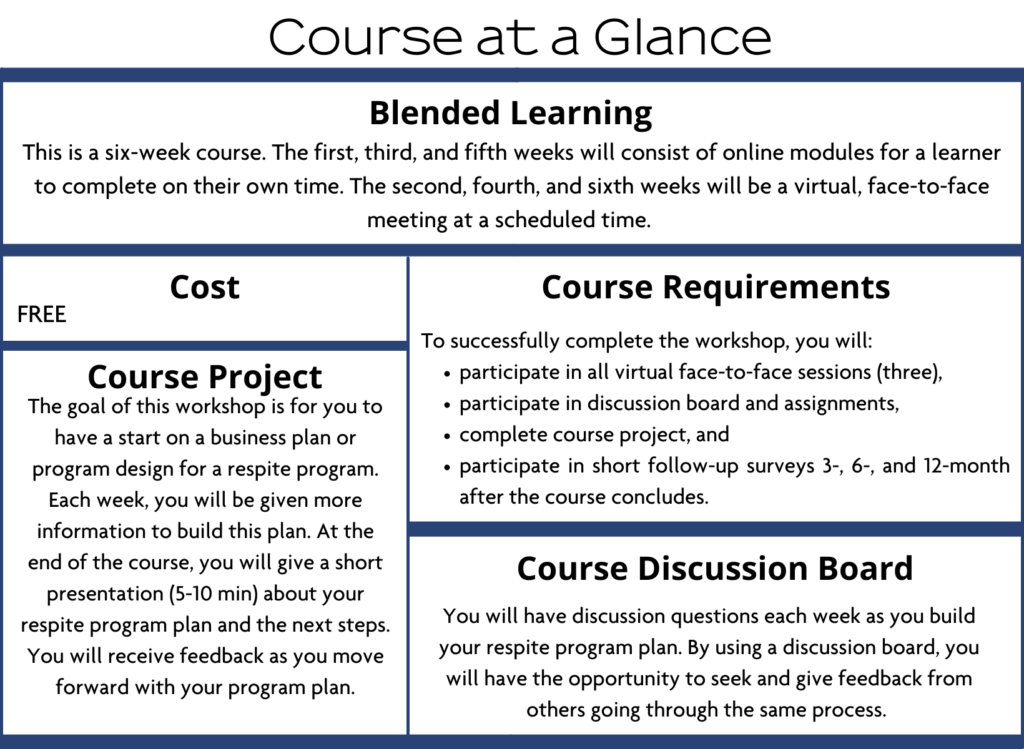 Successful Completion of the Workshop
Along with creating a respite program plan, RCAW wants to continue to support you in your respite program development. Upon completion of the workshop, you will receive:
Access to the RCAW & Direct Course Partnership, giving you access to more than 45 online courses (over 500 hours of continuing education).

Access to funds to cover the costs of training and conferences

An opportunity to receive up to $4,000 for your business to provide respite care from an RCAW start-up business grant for underserved populations.
Course Instructor: 
Your course instructor is Val Madsen, M.S., CTRS. Val has 20 years of experience working in community respite care programs with both children and adults. During her tenure, she grew existing programs and developed new programs to serve more clients in a high-quality setting while focusing on developing the skills of respite providers. Val's love for training others grew over her career, as did her passion for helping caregivers and meeting the community's needs. 
Val earned a master's degree in Therapeutic Recreation from UW-LaCrosse. She incorporates recreational therapy as often as possible in her interactions with care recipients, and training providers and staff to work with care recipients. With her focus on person-centered care and a unique model for respite, her program was recognized by ARCH National Respite Network and Resource Center in 2019 as one of 13 nation-wide 2019 Innovative & Exemplary Respite Services (the only one in WI that year).