START-UP RESPITE GRANT PROGRAM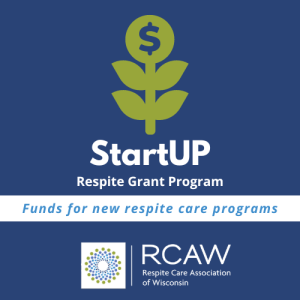 Respite Care Association of Wisconsin (RCAW) is looking to fund new respite programs or businesses in Wisconsin. 
One of the most significant barriers to starting a new respite program is the start-up business costs, such as facility costs, insurance, payroll, accounting, licensing, equipment, supplies, and staff education.
RCAW will be offering these funds to every county in Wisconsin through July 2027 because of a grant from the Administration for Community Living (ACL) through the Federal Lifespan Respite Grant program and a partnership with the WI Department of Health Services. **
This is a highly competitive grant opportunity. One program will be funded each quarter (four per year).
In 2023 and 2024, additional funds will be available specifically for new programs and businesses in Milwaukee County due to the generosity of Bader Philanthropies. This will allow for one additional program to be funded each year. 
ELIGIBILITY
It must be either a

1) New program or business or
2) Starting a new respite program or location as part of an existing business (expansion)

Program/Business must provide direct services in Wisconsin
A key team member of the program/business must have completed the Bringing Respite to Your Community (BRYC) Workshop
IMPORTANT DATES
Applications will be accepted throughout the year. Award decisions will be made quarterly (see chart below). Programs may submit up to two applications per year. Programs that have not previously been selected will be given priority.
| | | | |
| --- | --- | --- | --- |
|   | Applications Due | Decision to Grantees | Grant Funds Mailed |
| Quarter 1 | December 15 | December 29 | February 5 |
| Quarter 2 | March 15 | March 31 | May 5 |
| Quarter 3 | June 15 | June 30 | August 5 |
| Quarter 4 | September 15 | September 30 | November 5 |
Please review all documents and the FAQ's below. This will provide important information to help you fill out a strong application. Failure to follow directions will result in a denial of the grant application. 
Questions can be directed to Val Madsen at [email protected].
**This project was made possible by support from the Administration for Community Living (ACL) and the U.S. Department of Health and Human Services (HHS)  as part of a financial assistance award  (grant number 90LRLI0050) totaling $2,010,042 with 75 percentage funded by ACL/HHS and $502,968 (25 percentage) funded by non-government source(s). The contents are those of the speakers and do not necessarily represent the official views of, nor an endorsement, by ACL/HHS, or the U.S. Government.
Fill out the online application.
Note: You cannot save and return to your application. You should type up your answers using the word document in step one for easy copy and paste. 
Email the budget templates and additional supporting documentation to [email protected].
FREQUENTLY ASKED QUESTIONS
Grant Program Fraud Statement RCAW funds the majority of its programs with state and federal funds. RCAW is responsible for ensuring funds are used for their intended purpose and in a manner to conduct the goals and objectives identified in the grant. RCAW reserves the right to deny a grant application if it suspects or detects fraudulent information contained on a grant application RCAW also reserves the right to report suspected fraud to the appropriate officials, and applicants will be banned from applying for grants in the future. They may be subject to repayment of said grant funds to RCAW. All parties involved in grant fraud can potentially be charged with government grant fraud. Using state and federal grant dollars for unjust enrichment, personal gain, or other than their intended use is a form of theft, subject to criminal prosecution. Read the Grant Program Detailed Fraud Disclaimer.