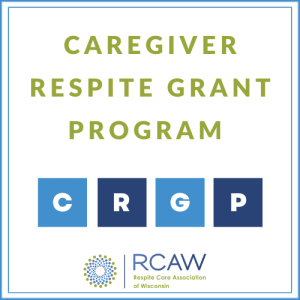 You likely devote a lot of time and energy to caring for a loved one with disabilities, special needs, or cognitive impairments, but you must take care of yourself, too! How can you give your best to the people you love if you are not your best? The Caregiver Respite Grant Program (CRGP) is here to help you do that!
Our CRGP provides financial support for family caregivers for up to five days of respite care within 30 days of approval. The grant helps you pay for one-on-one personal care from the respite care provider of your choice for your loved one living with disabilities or special needs.
This grant is available when financial support through other caregiver support or long-term care waiver programs is unavailable or has been used up. Depending on funding, caregivers may be able to reapply for this grant a few times a year. Please look at the top of the grant's webpage for up-to-date information. What a great way to recharge your batteries or spend one-on-one time with another family member or friend!
Imagine being able to:
Take a special day with another child in your family for some one-on-one quality time so they feel important and loved.
Going fishing with a buddy after years of not doing so because caring for your family member has required your constant attention.
Just take a few hours to get a massage, run some errands, visit a park, or catch up on some reading.
CAREGIVER RESPITE GRANT ELIGIBILITY OVERVIEW
To be eligible for the grant, applicants (the primary family caregiver) must have the applicable ADRC, Tribal ADRS, county case manager, etc., complete the Supporting Documentation Form showing the care recipient:
Has applied for a Long-term Care Waiver or other programs and not expecting to receive services or approval within thirty (30) days of the application
Has been denied Long-Term Care Waiver support(s) or other programs that provide respite services
Has been approved for Long- Term Care Waiver support(s) or other programs that provide respite services and has exhausted funds from said programs
Has applied and is receiving other supports, and the applicant needs flexibility for services not covered by current funding supports.
Has not applied for a Long-Term Care Waiver support(s) because they are ineligible for other supports
long-term care waiver and other supports
Check your eligibility with these programs before applying for the CRGP.
For primary caregivers of children, use this Wisconsin County Contact List to locate and contact your county representative for the CLTS Waiver Program or CCOP services.
For primary caregivers of adults or older adults, use this Wisconsin Aging & Disability Resource Center List to locate and contract your ADRC for the above LTC programs.
Appeals: RCAW's board of directors will review CRGP applicants' disputes if they have been denied a grant application and provide resolution requirements for RCAW.  Anyone who wishes to file an appeal must use the Grant Denial Appeal Form.
Grant Program Fraud Statement RCAW funds the majority of its programs with state and federal funds. RCAW is responsible for ensuring funds are used for their intended purpose and in a manner to conduct the goals and objectives identified in the grant. RCAW reserves the right to deny a grant application if it suspects or detects fraudulent information contained on a grant application RCAW also reserves the right to report suspected fraud to the appropriate officials, and applicants will be banned from applying for grants in the future. They may be subject to repayment of said grant funds to RCAW. All parties involved in grant fraud can potentially be charged with government grant fraud. Using state and federal grant dollars for unjust enrichment, personal gain, or other than their intended use is a form of theft, subject to criminal prosecution. Read the Grant Program Detailed Fraud Disclaimer.
USE THE LINKS BELOW TO APPLY 
"I got back from fishing a week ago Thursday. I had a great time and brought home a full limit of crappies for the freezer. My wife and I already had one meal of fish with plans for several more over the winter months. Thank you very much for the opportunity to getaway. All went well with in-home respite providers."
CRGP
Grant Recipient
"I had a wonderful time at the three-day bridge tournament. I went with three friends and met up with other friends there, also. We are all addicted to bridge (worse than the golfers!) and it has been such a long time since I was able to play. We were looking for gold points and reached our goal! Thanks again and it is such a pleasure to know about Respite Care Association of Wisconsin!"
CRGP
Grant Recipient
"I truly appreciate the opportunity that I was able to get a break without having to worry about caring for my husband. I am also a caregiver to my mom, who has been disabled since 2008 and care for my dad who is living with cancer. I am only 56 and I want to enjoy my kids and grandkids and be the BEST caregiver to all, and still take dare of myself."
CRGP
Grant Recipient
If you have any questions about the Caregiver Respite Grant Program, your eligibility, or other resources, don't hesitate to contact RCAW Program Support Specialist at [email protected]