Quick & Healthy Thanksgiving Recipes for Caregivers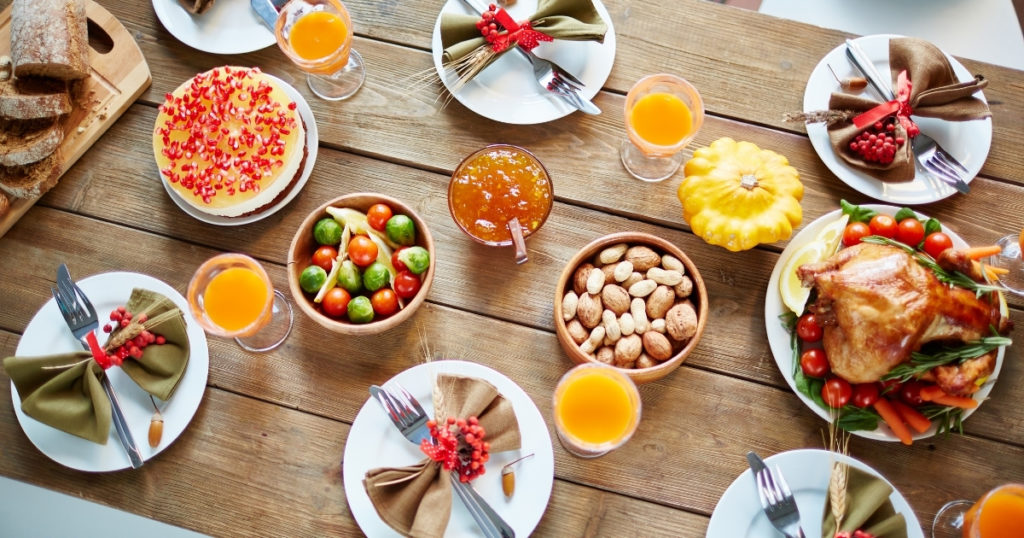 The holiday season can bring happiness and joy along with extra stress. It's a time to focus on giving thanks and appreciation for all the things we have, yet so much time is spent in the kitchen preparing meals for family and friends. Instead of giving time to create a meal, we want you to focus on yourself and your family! So, we are provided some easy Thanksgiving-themed meals that you can prepare and cook in less time.
Frozen or Pre-Cooked Turkey?
Thinking about using a frozen turkey? If so, you will need to plan ahead and have it complete thawed beforehand. Prepping and cooking the turkey is the most difficult part of these recipes, so we have some tips that will help you achieve the best results from start to finish.
Find a 6-7 pound turkey. Purchase one that is bone-in and skin-on.

Safely thaw the frozen turkey. This can be done in two ways:

Option 1: Thaw it in the refrigerator – allowing 24 hours in the refrigerator for every 4-5 pounds of turkey

Option 2: Thaw the turkey in cold water – allowing 30 minutes for each pound of turkey.

Note: Option 2 is the faster way but requires more attention. Keep the turkey in its original wrapping and then put it in a larger plastic bag. Squeeze out any air and seal the bag. Place the sealed bag breast-down into a bucket or the sink. Fill with cold water and place a large heavy object on top to keep the turkey submerged. Change the water every 30 minutes to keep the water very cold.

Once the turkey is in the oven, keep a food thermometer handy. You will check the turkey several times. It will be done when the turkey breast reaches 165 degrees F. It is suggested to pull the turkey out when the breast reaches 160 degrees F and allow it to continue to cook while sitting out.

Let the turkey rest for about 10 minutes before carving. Place foil over the top to keep it warm.
An alternative to using a frozen turkey, which can save you some time, is to look for a boneless pre-cooked turkey breast. You can ask for one of these in the deli department of your grocery store.
Recipe 1: Sammy's Famous Sheet Pan Thanksgiving Dinner
Recipe 2: Sheet Pan Herb Roasted Turkey and Cranberry Pecan Stuffing
Recipe 3: Crockpot Turkey Breast with Herbs
---


Sammy's Famous Sheet Pan Thanksgiving Dinner
Enjoy an entire thanksgiving dinner all made on two sheet pans. Less prep, less mess, more time to enjoy!
Tips before you begin:
Once the turkey is thawed, you can add a wet or dry brine to your turkey to give it a bit more flavor.

Before you place the turkey on the sheet pan, you will want to remove the two breast halves from the bone.
Prep time 2 hours (not including any thawing)
Cook time 1 hour
Servings 4-6 servings
INGREDIENTS
*Special equipment: 2 extra-large sheet pans (15×21 inches each) + parchment paper and foil
Turkey Breast
1 (6-7 pounds) WHOLE skin-on, bone-in turkey breast. Make sure the turkey is completely thawed and dry brine is added (if desired) (breast halves removed from the bone with skin attached so you have 2 breast pieces)

1 tablespoon dried minced garlic

1 teaspoon of the following: seasoned salt, paprika, Italian seasoning

1/4 teaspoon of the following: dried parsley, dried sage, dried thyme, freshly cracked pepper

4 tablespoons unsalted butter
Dressing
7 cups stale (brioche or sourdough) bread cubes (cubed into 1/2-1 inch pieces)

1 large egg

6 tablespoons unsalted butter separated

3 stalks celery diced

1 medium yellow onion diced

1 and 1/2 cups chicken broth

1/4 cup fresh flat-leaf parsley diced

1 package poultry herb seasoning mix OR you can make your own with: 1 and 1/2 tablespoons fresh sage, and 1 tablespoon fresh thyme and 3/4 tablespoon fresh rosemary
Brussels Sprouts
1 and 1/2 pounds fresh Brussels sprouts halved

3 tablespoons olive oil

1/2 teaspoon garlic powder

1/4 cup freshly shredded Parmesan cheese optional
Candied Sweet Potatoes
4 medium sweet potatoes (~ 1 and 3/4ths pound)

1/4 cup butter softened to room temperature (not melted)

1/4 cup light brown sugar lightly packed

1/4 cup flour

1/8 teaspoon ground cinnamon

1/3 cup chopped pecans

1 cup miniature marshmallows separated
For Serving
Dinner Rolls + Butter

Gravy for serving (either packaged and prepared or using a gravy package that comes with the turkey)

1 can (or homemade) cranberry sauce
INSTRUCTIONS
NOTE: Before starting, read through this entire recipe. It will help with timing and flow. Essentially, you'll be making the dressing and turkey first because that cooks for 30 minutes alone. While that is cooking you can prepare the second sheet pan (the Brussels sprouts and sweet potatoes) so it's ready to go in with the first sheet pan and cook for another ~30 minutes.
PAN ONE: Dressing and Turkey
Preheat the oven to 250 degrees F. Cube the bread and put it on a tray in one even layer. Bake for 20 minutes, remove, and set aside. (Start microwaving sweet potatoes as you start this prep; see instruction #2 under PAN TWO: Brussels and Sweet Potatoes).

Position the oven racks to the upper and lower thirds of the oven and preheat to 375 degrees F. Line both sheet pans with parchment paper (for much-easier cleanup). Use foil to make a "bed" for the dressing – fold it up so it's like a separate pan on the sheet pan.

On one side of the first sheet pan, place down the "foil bed" for the dressing. In a very large bowl, add the egg and whisk it until smooth.

Melt 4 tablespoons butter in a large nonstick skillet over medium heat. Add the celery and onion and cook, stirring occasionally, until softened, about 5 minutes. Add the chicken broth, parsley, rosemary, sage, thyme, 3/4 teaspoon salt, 1/4 teaspoon cracked pepper and bring to a simmer. Turn off the heat and set aside.

Add the dried bread cubes to the egg mixture in the large bowl and toss. Add in the celery-onion mixture, tossing gently to combine. Pour this dressing mixture into the prepared foil tray. Cut the remaining 2 tablespoons of butter into small pieces and place evenly all over the dressing. Cover the dressing with foil.

See above for directions on properly thawing the turkey breast and removing the two breasts from the bone. Do not remove the skin. Wash and pat the breasts dry. Add salt (don't add any more salt if you've done a dry brine) and pepper to both breasts – make sure to get it above and below the skin. Melt the butter and mix it with all of the seasonings (again, eliminate salt if you've done a brine) until you have a thick mixture. Rub this mixture generously over the breasts, especially under the skin. Rub it on top of the skin as well and then pull the skin to completely cover (as much as possible) the meat. Place these two prepared breasts on one half of the lined sheet pan. See cooking directions under "cooking the two pans."
PAN TWO: Brussels Sprouts and Sweet Potatoes
Microwave the sweet potatoes: scrub the potatoes until clean (leave the skin on). Using a fork, pierce the potatoes evenly all over, about 8-10 fork pierces throughout the skin. Wet 4 paper towels in cold water and wring out the extra liquid. Wrap each potato loosely in the paper towel. Place each potato (one at a time – See Note below) in the microwave and microwave for 5 minutes at full power. Remove and turn the potatoes onto their other side and microwave for another 3-5 minutes or until potatoes are tender enough to cut open (but don't cut them yet). Remove and allow to cool.
NOTE: You can microwave more than one potato at a time, but note that it will take nearly twice as long. (A single potato that would take 10 minutes, will take 16 minutes for two.) I like to microwave one potato at a time to ensure each is evenly microwaved.
Place the Brussels sprouts, olive oil, salt, pepper (about 1 teaspoon salt and 1/2 teaspoon pepper), and garlic powder on one side of the second tray. Toss on the tray and then spread into an even layer (if they are on top of each other they will steam instead of roasting) Place the mostly-cooked-through potatoes on the side of the tray. See cooking directions under "cooking the two pans"

To make the sweet potato streusel: In a large bowl (quickly rinse out the dressing bowl and use that), mix the room-temperature butter, brown sugar, and flour together until it looks crumbly. Add the cinnamon, salt, pecans, and 1/4 cup marshmallows. Stir until ingredients are combined and set aside.
Cooking the two pans
NOTE: Avoid opening the oven more than the recipe indicates; that really cools it down and will take longer to bake. When you open the oven, be very quick to close it up again.
Put the sheet pan with the turkey breast and stuffing on the rack in the upper third of the oven and bake for 30 minutes (remove the foil from the dressing at the 30-minute point). While the first tray is baking, you can prepare the second sheet pan of Brussels sprouts and sweet potatoes. After 30 minutes, put the second sheet pan on the rack in the lower third of the oven. Cook 10 minutes. Meanwhile, prepare the streusel for the potatoes (See step #3 under PART TWO: Brussels and Sweet Potatoes). After 10 minutes, remove the bottom sheet pan from the oven and rotate the top turkey pan (keep in the oven).

On the second sheet pan, toss the Brussels sprouts and then cut the sweet potatoes in half, fluff them with the fork and add the streusel evenly to each of the potatoes. Return this second pan to the oven and cook for another 20-25 minutes or until sprouts are roasted and tender and sweet potatoes streusel is evenly cooked through. At this point, check the turkey for doneness. The turkey is done when a thermometer reads 165 degrees F when inserted into the thickest part of the turkey. I pull it out at 160 degrees, as it continues to cook a bit once removed. While everything is cooking you can prepare the gravy, whip together a quick dessert, or set the table.

Remove the sweet potato pan and add the remaining marshmallows on top and add Parmesan cheese to the Brussels sprouts. Add to the oven for another 2-4 minutes, or until the marshmallows are bubbly (watch closely) and the Parmesan is melted.

Transfer the turkey breasts to a cutting board to rest at least 10 minutes before slicing. Slice the turkey breasts and return them to the sheet pan with the stuffing to serve. Serve with gravy, dinner rolls and cranberry sauce as desired.
If the above recipe seems like too much, we also have a condensed version of a sheet pan meal that offers you the main course, and you can make whatever side dishes you would prefer.
---


Recipe 2: Sheet Pan Herb Roasted Turkey and Cranberry Pecan Stuffing
This is a smaller option with only one baking pan and still way less dishes! Be sure to follow the proper thawing directions from above to ensure the best cooking results.
Prep time 1 hour (not including any thawing)
Cook time 1 hour
Servings 4-6 servings
INGREDIENTS:
5 cups French bread cubes

5 tablespoons unsalted butter, at room temperature

3 cloves garlic, minced

1 onion, diced

2 celery ribs, diced

1/3 cup dry white wine

1/4 cup dried sweetened cranberries

1/4 cup chopped fresh parsley leaves

1 tablespoon chopped fresh sage leaves

2 teaspoons chopped fresh thyme leaves

2 1/2 cups seasoned cornbread stuffing mix

1/2 cup pecans, chopped

1 1/2 cups chicken stock

Kosher salt and freshly ground black pepper
FOR THE TURKEY
2 tablespoons unsalted butter, at room temperature

1 clove garlic, minced

1 teaspoon chopped fresh thyme leaves

1 teaspoon lemon zest

1 (2-pound) boneless, skin-on turkey breast

Kosher salt and freshly ground black pepper
DIRECTIONS:
Preheat the oven to 400 degrees F. Lightly oil a 9 x 13 baking dish or coat with nonstick spray.

Spread bread cubes in a single layer on a baking sheet. Place into the oven and bake until crisp and golden, about 10-12 minutes; set aside.

Melt butter in a large Dutch oven over medium-high heat. Add garlic, onion and celery. Cook, stirring occasionally, until tender, about 3-4 minutes.

Add wine and cook, stirring occasionally, until just reduced, about 2 minutes. Stir in cranberries, parsley, sage and thyme. Remove from heat and let stand to soften cranberries, about 5 minutes.

Stir in bread, cornbread stuffing mix and pecans; season with salt and pepper, to taste. Stir in chicken stock until absorbed and well combined.

Spread bread mixture into the prepared baking dish.

In a small bowl, combine butter, garlic, thyme and lemon zest.

Using your fingers, carefully loosen the skin from the breast meat, spreading the butter mixture under the skin. Secure skin over the butter with wooden picks; season with salt and pepper, to taste.

Place turkey on top of the bread mixture. Place into the oven and bake until the turkey is completely cooked through, reaching an internal temperature of 160 degrees F, about 40-45 minutes.

Serve immediately.
NOTE

:

This can be made 1 day ahead. Let cool; cover and chill.
Finally, for some we understand that prepping and cooking even for a special day can still seem like a very daunting task. Even for an event such as Thanksgiving, cooking can lead to extreme stress. Instead, we have provided a simple Crockpot recipe that is quick and easy, and of course cooks throughout the day without having to give it much thought.

One of the best parts of this recipe is there is no down time for brine, the slow cooker does all the work! This recipe will keep the turkey very moist and flavorful.
It takes three minutes to get the turkey in the slow cooker, turn it on and walk away. You can then focus on more important things. Please note this recipe is great for smaller gatherings or family dinners. It feeds about 8 to 10 people.
---


Recipe 3: Crockpot Turkey Breast with Herbs
Prep time 10 minutes (not including any thawing)
Cook time 5 hours
Servings 10
Ingredients
6-7 pound bone-in turkey breast skin intact

2 oranges quartered

4 sprigs of fresh thyme

4 sprigs of fresh rosemary

1 tablespoon olive oil

1 tablespoon chopped fresh thyme

1 tablespoon chopped fresh rosemary

salt and pepper to taste

1 cup low-sodium chicken broth or chicken stock
Instructions
Thaw turkey. Rinse the turkey breast and pat dry.

Place quartered oranges and sprigs of fresh thyme and rosemary into the bottom of a large slow cooker.

Drizzle olive oil over turkey breast and sprinkle with chopped thyme, rosemary, and salt and pepper to taste. Rub into the skin.

Place turkey breast into slow cooker and pour chicken broth around the turkey.

Place lid on slow cooker and cook on low for 5-7 hours or until turkey reaches 165 degrees F with an instant-read thermometer.

Remove turkey from slow cooker and tent with foil for 20 minutes.

To brown skin, place under broiler for 3-5 minutes or until golden brown and then tent with foil.

Slice and serve.
We know the holiday season is a wonderful time of year, but we also understand that it can lead to some extra stress and craziness in your household. We hope these easy and healthy recipes give you ideas for your holiday celebration meals, while still being able to focus on time together with family.